Josh Hewett
Founder of Team Barbarian & Top Form Fitness
Former VP of the Ontario Powerlifting Association
Qualifications:
BA in Kinesiology
Resistance Training Specialist
CanFitPro Certified Personal Trainer Specialist
American Council on Exercise
Sport and Exercise Psychology certification
Strength & Conditioning Coach
Emergency Medical Care Attendant
OPA Registered Member
Muscle Activation Techniques JumpStart program
I started weight training at the age of 17 in order to put some muscle on my 6 foot tall, 150 lb frame. By the time I was in university I weighed over 240 lbs and decided to compete in powerlifting. After a few contests, I took a shot at strongman training and competition. My trainer partner, Conor Kelly, and I entered our first strongman contest in PEI in 1998 and were addicted ever since!
I now hold a degree in Kinesiology from the University of Western Ontario, as well as several training qualifications. I'm a qualified fitness professional with over 20 years of involvement in the health and fitness industry including employment, academic, competitive, and volunteer experience. I've also worked with the National Ballet of Canada, Shooting Stars Soccer, Ontario Powerlifting Federation, and the Sports Medicine Specialists.
I started Team Barbarian Strength Athletics to help athletes like you to improve their strength, power and performance. That's exactly what the Barbarian Strength System will do.
Occupation: Personal Trainer; Strength and Conditioning Specialist , Owner of Top Form Fitness
Favorite Saying: "We are made strong by what we overcome!"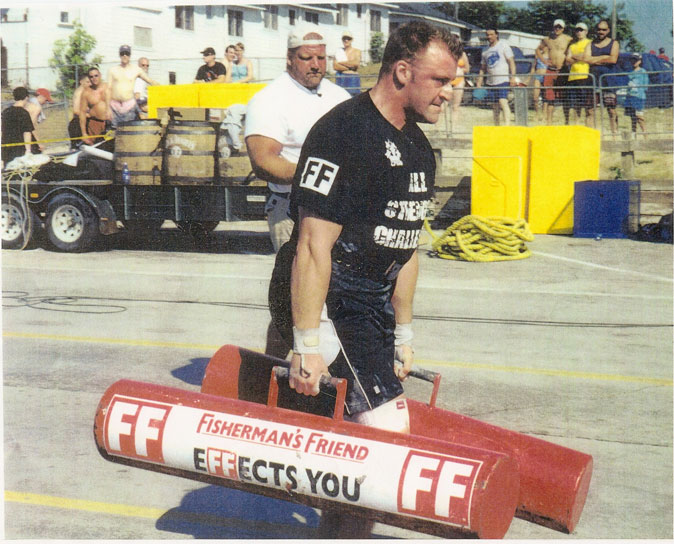 COMPETITIVE HISTORY OVERVIEW
2nd- Dunnville Mudcat Festival Strongman, Heavyweight Division, 2007
4th – Woodstock Strongman Contest, Lightweight Division, 2006
2nd – Woodstock Strongman Contest, LightWeight Division, 2005
1st – Halton Cup Qualifier 1, LightWeight Division, 2005
3rd – Extreme Fitness Strongman Challenge, 2002
1st – St.Thomas Middleweight Strongman Contest, 2002
8th – Ontario's Strongest Man, 2002
9th – Wasaga All Strength Challenge, 2002
7th – Octoberfest Strongman Competition, 2001
5th – Trenton Air Force Base All Strength Challenge, 2001
1st – Deadlift on the Beach, 1999
For more information, visit: www.top-form-fitness.com